With the legalization of recreational marijuana just behind us in Colorado and Washington and then of course the teeming potential of legalization in various other states in the United States there is a lot more talk about weed than ever before. Well there is a lot more blatant and honest conversations about cannabis than ever before, cannabis of course being the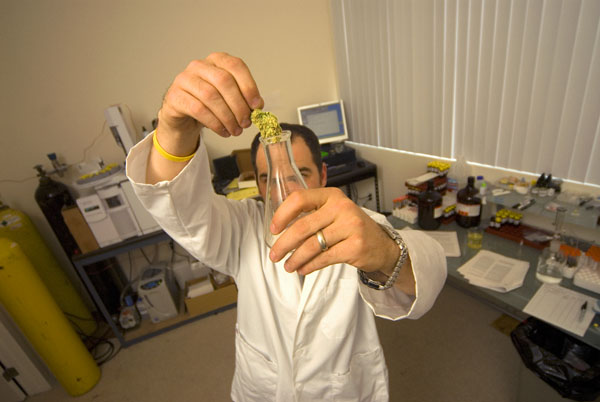 biological term for marijuana, weed, grass, ganja, etc. In that there are more open conversations about cannabis there are other things that are popping up around that as well. For example, all of the dispensaries we are seeing littering the streets of Denver as they probably are as well in Washington state. With the legalization of anything there has to be a regulation of those properties as well. Our food is regulated, our alcohol is limited and now of course our marijuana is being regulated. A result of regulating marijuana and distributing marijuana is that there are new levels of research and development that is a huge part of the legalization of recreational marijuana.
One of the leaders in the research and market development of legal cannabis for recreational and medical use is CannLabs. They are a company that uses formulary design work, data compilation and analytics. With some of the latest and greatest technologies they are able to provide individuals with information that will help consumers make the best choices around which strain of cannabis would be the best option for them based on their medical symptoms. For example, CannLabs is able to tell you which cannabinoids can help with depression, sleep problems, inflammation, insomnia, epileptic fits, nausea, unwanted bacteria, diabetic symptoms, psoriasis, tumor cell growth, arthritis, lupus, artery blockage, constricting of blood vessels, organ rejection, neuro-degenerative diseases and spasms.
In taking a closer look at how cannabis helps with prevention disease and easing discomfort or pain around various ailments we see there are various ways that cannabis and it's cannabinoids can positively affect quality of life. To reduce inflammation the CBD, CBDA, THCA, CBC, and CBG will help with that. With their marijuana potency testing they will be able to determine which strain and crop hold each of these cannabinoids to give users a more educated means of taking care of their health. CannLabs being a leader by having top of the line CBD test labs provides the entire cannabis industry with a means to help individuals with their health problems that range from spasm to sleep deprivation.
With all of CannLabs extensive knowledge and experience in the cannabis science field they are able to provide support for market development and also are leading the way in research. As mentioned above they are able to detail the various medical benefits through their exact measurement process of the cannabis plant. They are even able to provide individuals with the exact level of marijuana potency that they would be consuming in their product which can be most helpful. From knowing how strong the strain is to knowing how it will help you with your help, CannLabs will give you the information that is needed.